Meet The Richardsons at Calder Valley Radio...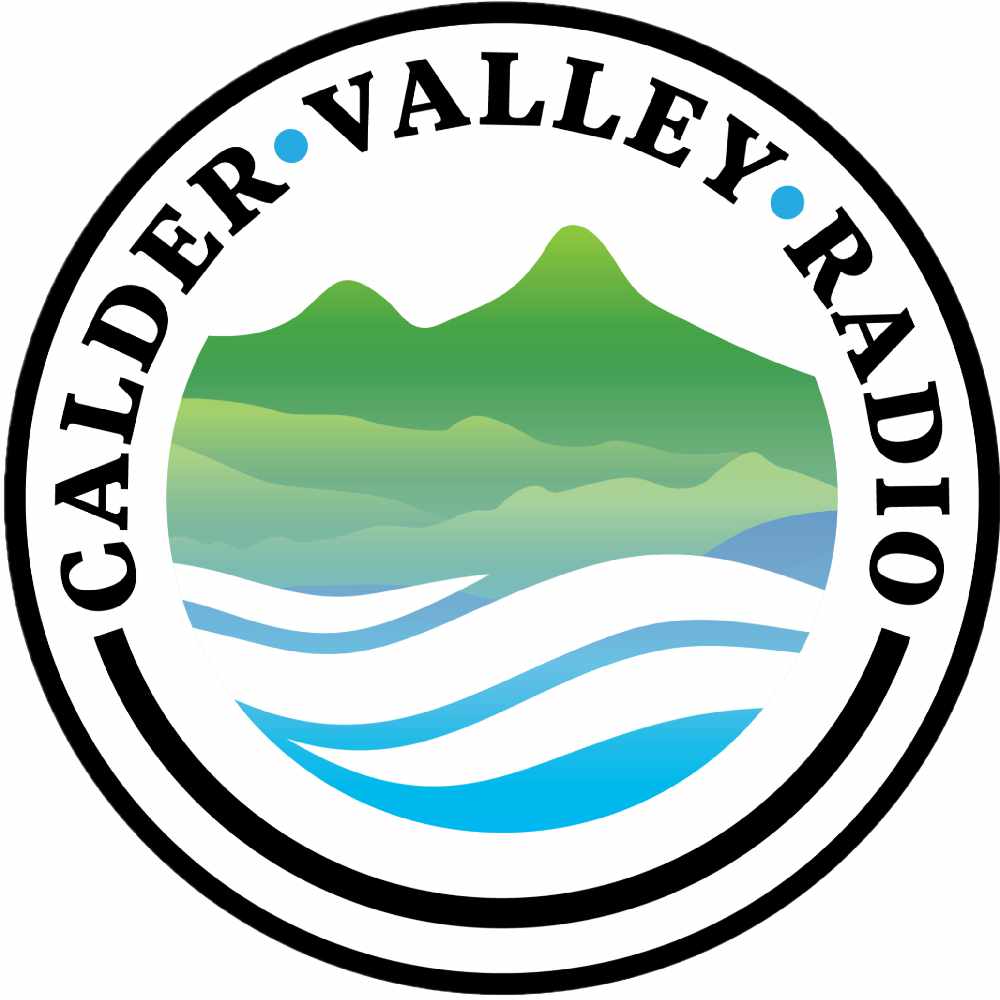 Meet The Richardsons at Calder Valley Radio...
Good morning Calderdale, if you've been watching our socials recently or listening in to some of our shows you'll know our very BIG, EXCITING NEWS which we've been shouting from the rooftops- if you missed it, you can hear Dave & I talking about it in our cultural show on the Mixcloud below:
Yes... your favourite community radio station had a starring role in the jewel of the TV channel Dave's crown - Meet The Richardson's, you can find out more about Dave's shows here. For those of you that don't know (if you don't know, clearly you've not been listening in to us and I have to insist you stop what you're doing, get a brew and listen in now...) Meet The Richardson's is a 'mockumentary' that follows the lives of stand-up comedians Jon Richardson and Lucy Beaumont in and around our Calder Valley. They play exaggerated versions of themselves and the viewers get a glimpse into their home & work lives and their Hebden Bridge neighbours. During the course of their work lives - they decide to visit your favourite local radio station Calder Valley Radio and we have all kinds of fun with them in the studio for two episodes. You can view a clip of them in our studio - with someone very familiar below:


Yes, during the first episode, we appear in (Episode 3, first aired 22nd April) Jon & Lucy are on-air with our own Guy Parry and during the second episode (Episode 4, first aired 29th April) Lucy and comedian Rob Beckett take to the airwaves in their very own Calder Valley Radio show! Lucky for us I've managed to corner Guy for five minutes to give us all the gossip about what it was like to have the Richardson's in the studio and the chaos that ensued...
Ok, Guy - good morning, thanks for letting me bully you into a chat, I want all the gossip...
G: Yes, I will spill *all * the gossip!
So, tell us how you first met The Richardson's?
G: Well, we first met about a year & a half ago - I was at work at The Shoulder of Mutton & Programme Controller Dave Moses called me and said: 'can you get tomorrow off work because we've got a gig - it's John Richardson, Lucy Beaumont and friends.' It was a test gig. If you don't know what that is - what usually happens with comedians is that they test out their material to small audiences before they have gigs and they bring notebooks and write down the audience responses.
Oh, really I didn't know that...
G: Yeah - it's a well-kept secret. So they have their invited audience, each comedian comes up, tells their jokes and write up the audience response etc. But it was Jon & Lucy's gig and they weren't completely happy with the PA/ sound levels that were available for them. So we thought, we could do that as we have a great system. We got there, set up our kit, tarted the room up and made it a bit welcoming. I ended up meeting Jon, and he was really funny, really lovely - he went into the waiting area (which is actually by the vending machines outside the sports hall!) and he opened his case and put on his spangly jacket and put his cardigan on *under* his jacket and then he went out to do his bit! Lucy was very impressed with the new sound and how well everything went and so I just thought 'Ok, we've now got this contact with Jon Richardson & we're about to launch a brand new radio station...'
So yeah - why wouldn't you use it...
G: Well, exactly - so I tried and tried to get hold of him and it was really difficult. The mobile number I had for him wasn't working and I'd already asked him if he would open Calder Valley Radio station and he'd said 'absolutely yes' but I just thought he'd blown me off. As it transpired, someone on a huge national TV show had done a screenshot of one of his messages and it had his mobile phone number on it..!
Oh no - actually, I think that was in Meet The Richardson's as a joke wasn't it?
G: Yes - it was a really huge thing & I realised the reason he hadn't got back to me was he had to change his number because he was avoiding phone calls and messages from loads of strangers! So long story short - I managed to get in touch with one of his neighbours (the ones in the show...) and through some various miscommunications he came and he opened the radio station with Mayor Councillor Val Stevens.
What was the launch like?
G: Well, remember it was in the middle of COVID, so everything was socially distanced and we had them on either side of the world's longest ribbon with gold scissors in the community centre in the car park. Then Dave played some music and suddenly a spin class happened!
I have seen the photos and I have to say it looked like it the most *unusual* station launch I've seen...
G: Yes it was - but it was also a real talking point! Jon did say it was the 'strangest wedding reception he'd ever been to.'
Haha, typical Jon! How did the idea they'd film in the studio occur?
G: That came from the community centre itself - they were going to use it as their location base for the new series of Meet The Richardson's - because there's a lot of cast, a lot of equipment and a lot of crew etc. who all need to eat. So they were using the community centre as a space to feed their crew, honestly, there are about sixty to seventy people involved in the production and they all need somewhere to go! So it evolved from there really - Jon Chilvers who manages the centre said to us they're thinking about using a radio station in the show and would we be up for it? Obviously, we very interested and we were meant to just be doing a quick segment. But we were outside and we met with the Location Manager and they explained what they needed and we suggested that they did *all* the radio stuff with us as we're right there... Just you know, do more with us and less somewhere else.... and in the end, they did it all with us!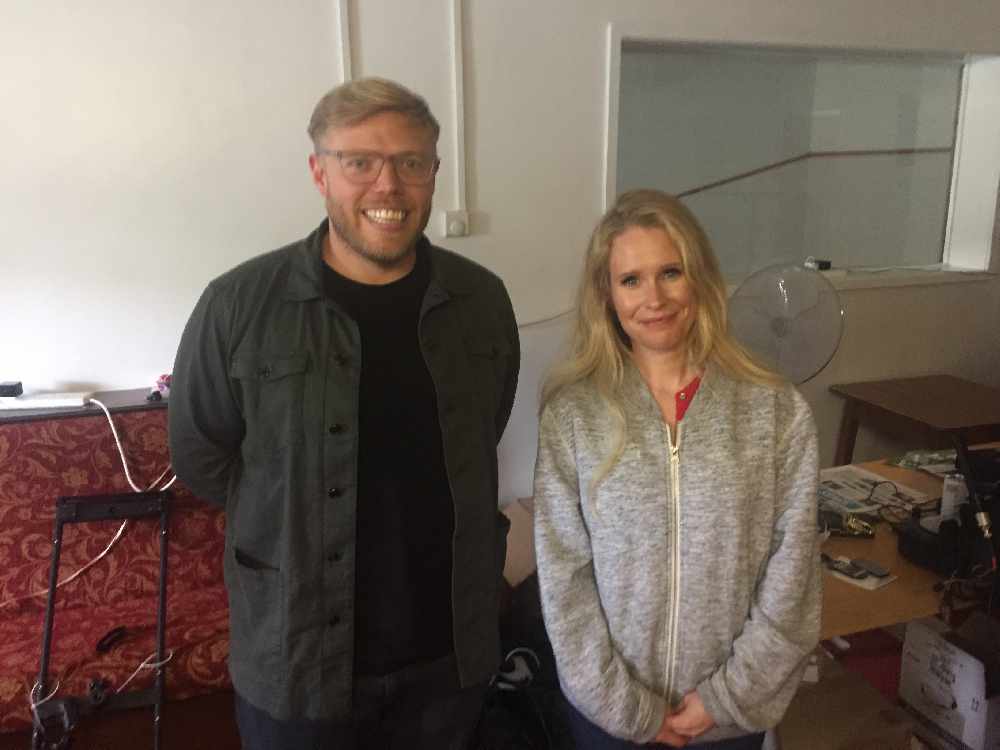 What actually happened on the day they arrived?
G: Well, they dropped in with so much stuff - it was like a tsunami. On the day it felt like nothing happened for ages and then suddenly it felt like everything happened at once. A hoard of people rush up, tart up the room, change everything, change the lighting, make sure the camera has enough space and everything is in the right order and you feel like you have no time at all. It feels like 'hurry up and wait' in the beginning and then it hits you all at once!
How did you prepare for being on screen?
G: It was very exciting because I got very little preparation time at all - I got a very quick brief of what they wanted to talk about on-air, no script - no anything. No lines or prompts and then we were up and running. I remember at one point Dave Moses was at one side of the studio and I was at the other and I needed to talk to him but I physically couldn't get to him because of all the cameras and people in the way!
That's hilarious because when you look at Jon & Lucy in the studio with you - it all looks so tidy, calm and empty on that side of the camera...
G: Yup - behind the camera and in the Greenroom, it was a totally different story though. You've got the director and everyone with their headphones on listening to us and constantly looking at everything that's going on. They got us to try and do it in a few different ways - "Guy we need a bit more information, or more condensed" and so on...
That was a ten-minute segment in the first episode that the station was in - how long did it take to film?
G: That took a few hours to film those ten minutes - although they do work at speed! We had to do it all on the hoof, it is all improvised.
Really?
G: Oh yes - we did five or six takes of one segment and every single time the responses from Jon & Lucy were different.
I suppose because it's a 'mockumentary' I thought it would be scripted...
G: Well we actually (and this feels like telling tales out of school) found a script that had been left lying around in the Greenroom and obviously out of interest we picked it up. It had the scenario at the top and then it had: "Jon: blah blah blah', and 'Lucy: blah blah blah, Presenter: 'blah blah blah" written on it. So, you were given the scenario and you just had to work it.
Wow - it seems so tight and put together so it's amazing to think everything is happening on the fly
G: Yes - it's amazing how they interact so off the cuff, it must be a nightmare to edit though. That was the only reason we knew Rob Beckett was going to come back, because we read it in one of the script scenarios and it said: "cut to Lucy and Rob." Then the Art Director came back to take down some bits and said Rob was coming back with Lucy to film the next episode so we were off again!
Is Rob Beckett funnier than Job (sorry Jon...)?
G: I think they're different...
Very diplomatic...
G: Well, you know <laughs>...
Now we know you've done lots of stage and screen acting, you've been in nearly all of the nation's favourite soaps as well. How different is it working on this type of 'mockumentary'/ reality TV?
G: It's the script basically that's a big difference - and the community centre work was much quicker. If you have something going on TV and it's blocked and you've got lots of people that have to be happy with it, it takes much longer, but that type of reality TV and mockumentary is so much looser. On the fly... It's quite refreshing to do that.
Would you do it again?
G: Of course, like a shot...
Maybe you could do your own series, we could have one about the station?
G: Haha - yup. That's a brilliant idea - TV production companies hit us up! It was a nice reminder of the camera for me because I've not been on screen for a while.
What did that feel like to you personally?
G: It was really comfortable - it felt familiar. It was like going home. It's like I just knew, I wasn't nervous, I wasn't anxious, it was like... "The camera's there, that's what I do and so on."
That's amazing, I feel like if I'd have done it I"d have been petrified...
G: Actually during the interview, I was just interviewing like normal and obviously with normal telly you don't look directly down the camera. If you do they have to cut and retake. But the Director came in and said "oh no, with this you can - you can look down the lens."
Oh really, why is it different - is it a 'breaking the fourth wall' thing?
G: Yes absolutely, it's an acknowledgement that it's a mockumentary and the audience are part of it too. But it was so alien for me to be talking to them with one eyeline and then flicking to the camera and sort of doing a very slight facial expression for the audience because they were arguing etc. Very interesting because I've never done that before. I kept thinking I'd made a mistake!
Did they film a lot more than they showed?
G: Yes, lots - and each time was a bit different! There was quite a bit that ended up on the cutting room floor. Although that's the case with anything on TV unless you're doing a soap, which is always a tight as a button for filming.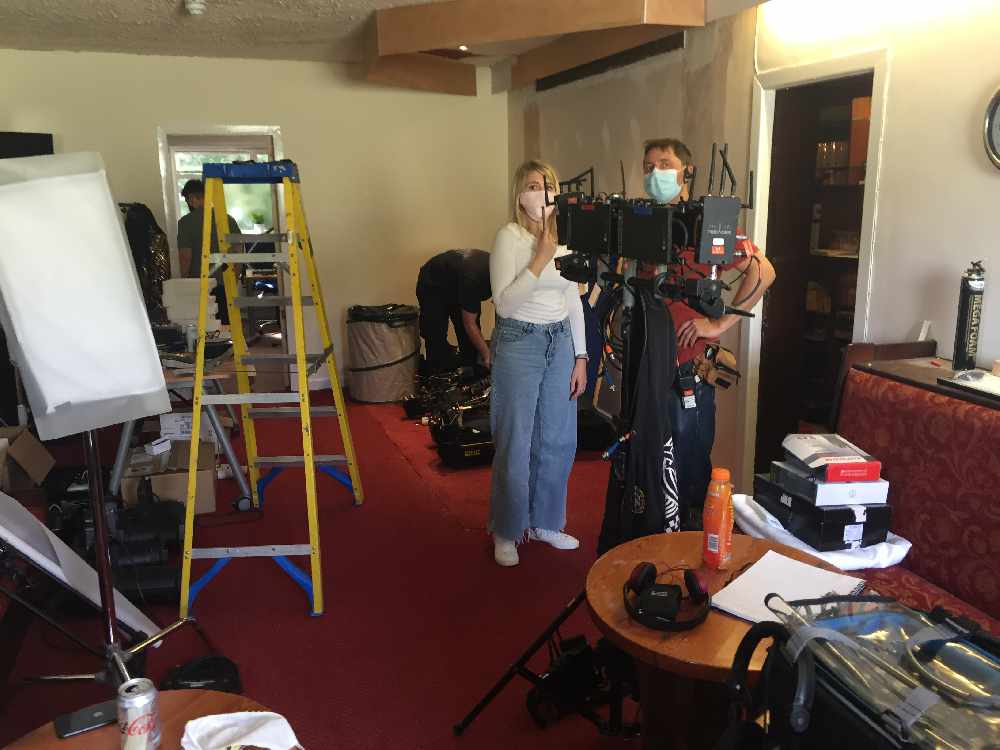 Can you tell us a bit about the whole 'Masked Singer' experience? That was done in the Jubilee Room at the Community Centre, wasn't it?
G: Yes, so we were already involved as they were using our studio & then they said to us - can we use your equipment for this segment? So we set up all our equipment and Ellie, the Art Designer, came in and put all of their stuff around the place with glitter curtains, big banners and so on - we gave them our glitter ball though! It was a day of collaboration... Then suddenly it all started to happen again, everyone swooping in and everything happening at once, and there was an audience this time!
Were they actors?
G: No! I think people from the community... But what they did do was on the tables, because they set it up cabaret style - a bit like a wedding (as an aside - at one point Ellie put the covers they put on chairs for a wedding but she took them off because it was too much...) They put out bottles of real wine, a couple of bottles on each table. This was during the day too!
Did they get through them?
G: Yes! They got through them relly quickly... and obviously filming takes a little bit of time - because it's a stop start procedure and there was one this one unamed lady, we didn't know who she was < I thought maybe she was an actor...> who started chanting "take it off, take it off" at the Masked Singer.
For people who don't know - The Masked Singer is kind of like a talent show where celebrities sing and people have to guess who they are...
G: But yes, you have to guess who is behind the mask and when the celebrity, I won't give away who- but they're a named celebrity... They took their mask off, and this lady suddenly started chanting "don't know who you are, don't know who you are..!" I think she might have drunk all the wine by herself.
That makes for good TV though - I hope they've left it in...
G: Yes I hope so too, but she kept doing it. At one point I was convinced she was a plant to gee up the other guests, but a producer had to go and have a word with her! To get her to stop... She was genuinely just a regular person who had been invited and had drunk all the wine.
I guess at least it was quite a lively event?
G: Yes it wasn't like a regular studio shoot, no one was quiet. It all felt really organic and everything was just carrying on around the filming. The director never had to say "action" it all just happened.
What was Jon's reaction to the singing - did he hate it?
G: We won't give away too much of the plot or why they were doing it - but he was supposed to hate it. I think he enjoyed it, I know he enjoyed the whole series really.
I forgot he's sort of playing an exaggerated version of himself...
G: Absolutely, he and Lucy are. That's one thing that happened up in the studio - the director came in and he had to remind Jon "remember you're grumpy." Because he's not actually that grumpy in real life, his whole persona of "grumpy old man" is just part of the show. I think what happened is I was just interviewing them as I would interview anyone at first and then he was just responding in kind. So then he had to remember to be more of a caricature of himself...
Actually that's another trade 'secret' - a lot of the people you see on the show are not real people, by that I mean they're actors...
Oh really - like who, spill the gossip?
Well, Lucy's mum - that isn't Lucy's mum... They have such a rapport though. Jon & Lucy's neighbours are real obviously, but all the 'sitcom' people aren't real and neither is Jon's agent. She's an actress - amusingly I spent ages trying to find her when Jon's mobile number didn't work, but I couldn't. Then I worked out she was an actress (clearly a very good one!) It's a real mixture of actors and regular people which is why it works so well.
It must be really hard for them to play such exaggerated versions of themselves...
G: Yeah it must be - I mean, Lucy Beaumont - of course she doesn't want a divorce from Jon. It's just a version of them. Jon in real life is really sweet, lovely. He's such a community man - they both are, they've done so much for the community promoting it on the show and so on.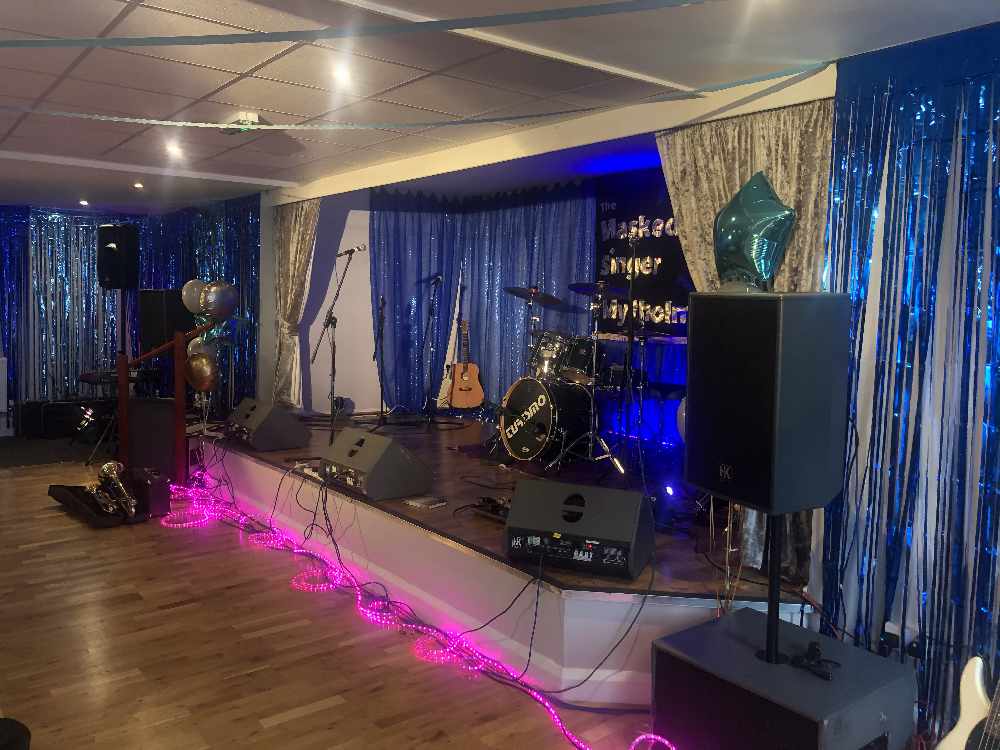 What's been the outcome of having the station appear on the show?
G: I've had a message from a guy in Canada that I went to school with and he said "I've just seen you on TV" which is amazing if you think about how far Canada is. The reach of shows like that is incredible - I'm only on screen for a few minutes, so god knows what the modern day star has to deal with, with social media and so on... When I was doing a lot of TV social media didn't exist - so people couldn't get hold of you unless you'd given them your phone number. Oh, and the other day I got a letter with a book from some author in, proper fan mail! They'd obviously watched the credits to find my name...
You made an impression...
G: I suppose so, and they'd have had to watch the credits and research where the station is to send it to me!
That's genuinely brilliant - you're already a star in the community as it is, I've been out with you and you're constantly recognised...
G: Haha, so if you're super famous who knows how you manage... I don't need security though, I've got you..! But it's definitely one of the strangest things that's ever happened to me - even when I've done TV I've not really had fanmail. So that's a new thing. I mean the show has such big reach, it goes out to people everywhere.
I can see us doing more TV, TV companies if you read this - you know where we are...
G: Yes, absolutely - we're waiting for our close up.
Finally - I have to ask, who's funnier, Jon or Lucy (sorry Jon, I had to ask..?!)
G: I nearly worked with Lucy before on a production, she's lovely... So I mean...
Thanks Guy that was ace - if you want to catch Guy dishing up some more gossip you can hear his Magazine Show on Wednesday 10am-12pm. In the meantime, if you missed us on Dave you can watch UKTVPlay and catch up with our episodes on the link here. Now we're off to practice our autographs...
Over and out
By Louise Ann Oldroyd