Discovering Ted Hughes's Literary & Heritage Trail Maps
Attention Ted Hughes fans, this piece of news may be of interest to you... Whatever your feelings about him, the controversial Ted Hughes is a local icon and one of the greatest poets the UK has produced. So here at Calder Valley Radio, we were extremely interested to learn via Dr Steve Ely, the Director of the Ted Hughes Network at the University of Huddersfield, that six maps and trails for 'Discovering Ted Hughes's Yorkshire' are now available to the general public via a number of mediums. You can walk through Hughes's life and work via the stunning Yorkshire landscapes and backdrops, the maps can be purchased through local retail outlets, bookshops, local authority sources and libraries. Given we're all still in lockdown electronic versions of the maps can also be accessed - via this link.


Dr Ely comments, "The maps, based on the latest research into Hughes's life and writings, and designed by Hebden Bridge cartographer Christopher Goddard, give walkers a unique opportunity to experience the landscapes that inspired and formed England's greatest 20th-century poet."

Excitingly, three of the trail maps are very local - Mytholmroyd, where Hughes was born and where he lived until he was 8 years old; Crimsworth Dean, the 'happy valley' where Hughes would camp out with his brother Gerald' and Heptonstall/ Colden Clough, where Hughes and several members of his extended family once lived - all located within the Hebden Royd area. We feel like this is the perfect opportunity with the brighter weather coming to put on our hiking boots and walk the trails that Hughes traversed during his life. Steve Ely continues, "So many locations in the Upper Calder Valley are closely associated with Hughes, his life and work. Seven poems, including the anti-war poem 'Out' and 'Source' the touching personal poem about his mother, are set in his birthplace at 1 Aspinall Street, with a further twenty-seven poems having locations in the Mytholmroyd area."
Several other poems and stories (including 'Horses' and 'The Deadfall' are set in Crimsworth Dean. Hughes also wrote several poems focused on Heptonstall and Colden Clough, including 'Lumb Chimneys' and 'Wind'. The area takes on particular resonance when you take into account that Hughes once lived at Lumb Bank just below Heptonstall, and for a long time considered settling there permanently and that he buried his first wife, the poet Sylvia Plath, in Heptonstall cemetery.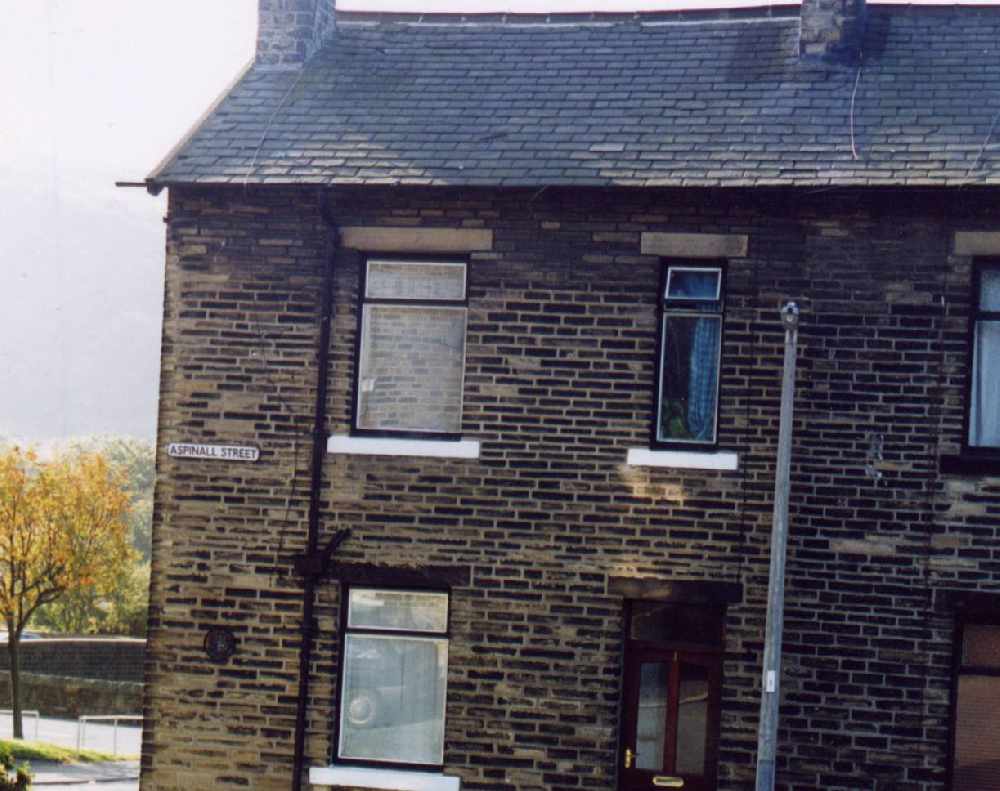 Hughes's birthplace on Aspinall Street, Mytholmroyd
"The landscape of the Upper Calder Valley was hugely important to Hughes's life, work, and imagination, and he wrote over a hundred poems about the area, most of which are collected in his 1994 collection, Elmet."
If you do one of the walks - make sure you look for the interpretative panels that mark the start of each walk, they're installed in the following places: canalside near the entrance to the Moderna business Park in Mytholmroyd, at Hardcastle Crags car park and at Hebden Bridge railway station. The entire range of the maps extends beyond the Upper Calder Valley though with many places of interest noted.
Dr Ely added, "Discovering Ted Hughes's Yorkshire also includes three maps that open up Hughes's other Yorkshire locations; two are are focused in and around Mexborough in the southern West Riding, where he lived between the ages of 8-21 - the place where he wrote his first poems and resolved to become a poet - and another focuses on Patrington in the East Riding, where Hughes did his National Service in the RAF. These three Yorkshire locations formed Hughes as a poet."


Steve continued, "We had originally planned to launch the maps in the spring and summer of 2020 with guided walks, school and community creative writing workshops and poetry readings, but Covid-19 put those activities on hold. As soon as restrictions are lifted - hopefully by the late spring/ summer this year - we will implement and publicise a programme of Discovering Ted Hughes's Yorkshire activities. However, people will at least now have the opportunity to use the maps to self-guide themselves along the trails."

The Ted Hughes Network at the University of Huddersfield co-ordinated the development of Discovering Ted Hughes's Yorkshire, but a number of Calderdale organisations, including Hebden Royd Town Council, Calderdale Council and the Elmet Trust also made important contributions. It's great to see our councils helping to bring these moments of literary significance to us and right now we can't think of anything better than taking some long walks around the stunning local landscape and taking in some of the places Hughes trod before us. As you walk through the Calder Valley you really can feel Ted Hughes and Sylvia Plath resonating through the area, through the architecture and even through the ether!
For more information about Ted Hughes, his works, significant places to him in Yorkshire and the walks visit the link Discover Ted Hughes' Yorkshire - and the walks
In the meantime, we thought we'd leave you with some lines from 'Six Young Men' written at Hughes' parents' house at Heptonstall Slack in 1956. The poem describes a photograph belonging to his father of six of his friends on an outing to Lumb Falls taken just before the war and we think it captures our local beauty perfectly:
All are trimmed for a Sunday jaunt. I know
That bilberried bank, that thick tree, that black wall,
Which are there yet and not changed. From where these sit
You hear the water of seven streams fall
To the roarer at the bottom, and through all
The leafy valley a rumouring of air go.
Pictured here, their expressions listen yet,
And still that valley has not changed its sound
Though their faces are four decades under the ground.
Happy trails Calderdale, if you visit any of the walks or have a favourite poem from Hughes about the local area or anything else, let us know as always on studio@caldervallyradio.co.uk
By Louise Ann Oldroyd