Luddenden Mayor Making
Good morning Calderdale, with lockdown restrictions easing - if you're looking for a great family day out soon, might we suggest you pop down to Luddenden for this year's Mayor Making on Saturday 11th September. As well as a fantastic day out with lots of entertainment including local stalls, games and the infamous Duck Race, you might see a few of your favourite local community radio station presenters out and about. That's right, Calder Valley Radio are dusting off our speakers and we're taking the show on the road to help support the Luddenden community and new local Ludden Mayor Stephen Parker as he takes over the reins from Stephen Wormald (our local Lud Mayor who took on the mammoth golf charity challenge you can read all about here) and we'll be there in full force to help get the party started - we're super excited to see you all there so read on for all the deets...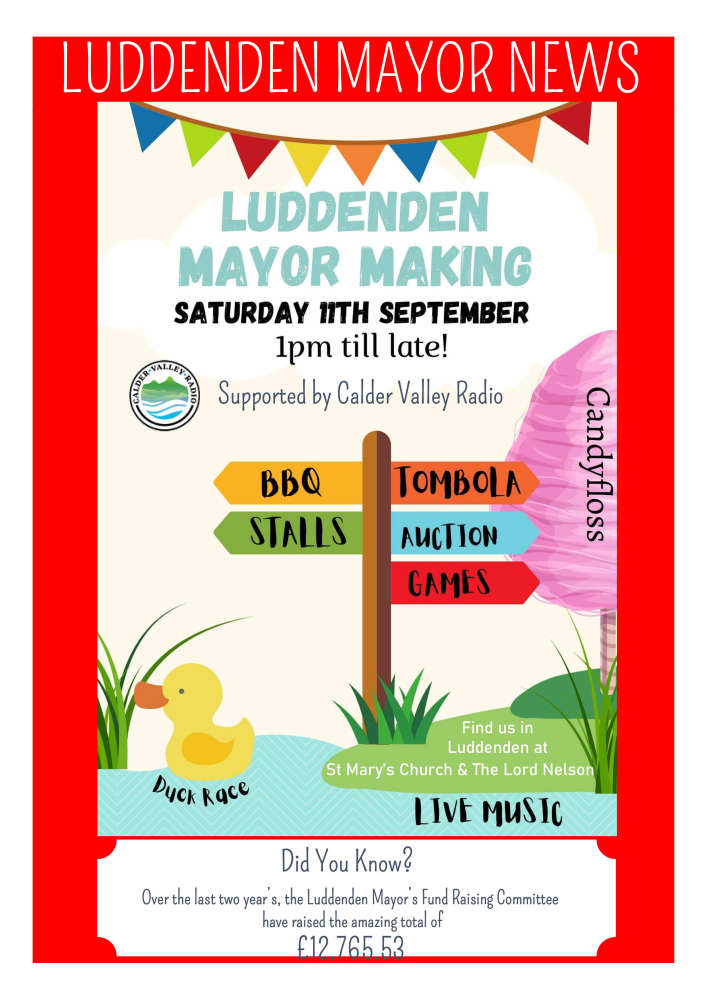 (c) Luddenden Mayor - Luddenden Village
Held in St Mary's Churchyard and The Lord Nelson pub in Luddenden, this Saturday event will be from 1pm till late and will feature a tombola, auctions, games, a bbq (you'll probably see us hanging around looking for a hotdog or two) brilliant stalls featuring all manners of local arts, crafts and wares and of course the infamous Duck Race (compèred once again by our very own Guy Parry) Also, all of the donations made benefit so many local causes - in the past two years alone, the Luddenden Mayor's Fund Raising Committee have raised over twelve thousand pounds for various local charities! We can't believe how much amazing work they do - so please consider donating when you visit on Saturday. Check out the below newsletter for an update on all of Lud's fundraising - also a massive shout out to the current Luddenden Mayor Stephen Wormald as he and his team raised over £1700 on his longest golf day challenge and we know how physically demanding the course was for them. Did you know they walked 72 holes in a single day, playing four rounds of golf and they were on the course from 5am till 7.30pm?

(c) Luddenden Mayor - Luddenden Village
What a load of great fundraising and we're looking forward to seeing what the committee does in this coming year with Stephen Parker at the helm fundraising for the MND - Motor Neurone Disease Association. If you have time on Saturday 11th September, come on down to St Mary's Churchyard in Luddenden and say hello to us all - we'll play your favourite song if we can and you never know, you might win the duck race or tombola! To get us in the mood - I'm already putting a few party songs on a playlist, click the link below to hear them or search Calder Valley Radio on Spotify. You might hear one or two of these on the day!

That's it from me this week, join us again for more tales in the community soon - keep safe and we'll see you in Lud for the Mayor Making. We can't wait for the event - don't miss it!
Over and out.
By Lousie Ann Oldroyd