What's on in Calderdale & when...
As we're all finally emerging from lockdown (in the safest ways possible naturally Calder Valley - we want to slow the spread of any new COVID variants as much as we can...) you might be at a loose end with what to do with your time, now you can *actually* do things. The choices seem endless - so the sense of panic and of ending up not doing anything are real. This is indeed a strange predicament compared to the last year or so, but your favourite community radio station is here to help - with an updated instalment of what's coming up in the Valley over the summer! You can always find out what's on locally, so you feel prepared to go out and have some fun, by tuning into Dave & Lou's cultural show Mondays & Thursdays 12-2pm (shameless self-plug alert!) Or you can catch up with us on Mixcloud below - read on for all the deets...

Coming this weekend in Hebden Bridge:

6 August
Fettling Footpaths - it's a CROWS life
Wadsworth Community Centre, Billy Lane, Old Town HX7 8RY
The Centre opens at 6.30pm - AGM 6.45pm
If you're interested in the work that our amazing local volunteer service CROWS (Community Rights of Way Service) does - you may be interested in attending their open talk & AGM this Friday.
You can attend and enjoy a fantastic two-course supper for only 3.00 there's a great open bar.
Main Guest Speaker: Richard Peters will be talking about the voluntary work CROWS carries out in the Upper Valley at 8.15 p.m.
Everyone is welcome & if you're interested in the right of way service and have some spare time it's a great way to find out about it - they'd love to have you as volunteer helpers or to join their Board.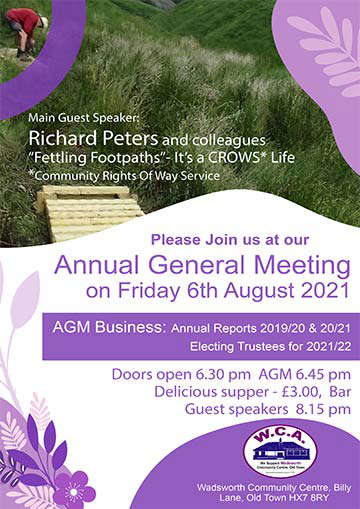 7 August
Hiroshima Day
Wavy Steps, Hebden Bridge
From 3pm
This weekend Calderdale CND will be holding their commemoration of the destruction of Hiroshima and Nagasaki by nuclear bombs in 1945.
It's taking place on the Wavy Steps in Hebden Bridge from 3pm and will include a reading of the annual declaration by the Mayor of Hiroshima, poems and songs. If you have time please take a moment to visit and help remember this horrific event - also to help meet with other local people to help ensure that British nuclear weapons are banned under the UN Treaty on Nuclear Weapons which has declared them illegal.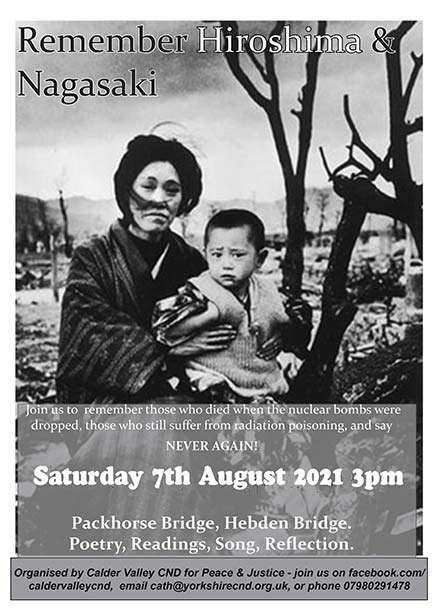 7 August
Yorkshire Film Archive Presents Calderdale on Film
Hebden Bridge Picture House
2.30pm & 7.00pm
Book tickets online here

If you're passionate about our Valley - this film project will be right up your (local) street!
Featuring home movies, cine club and regional television collections, a specially curated film project showcasing Calderdale's vibrant people, places, events, industries and daily life of the past century - is all captured on film and set to be shown at the Hebden Bridge Picture House.

This filming is part of the Screen Heritage project, which is supported by Film Hub North a part of the BFI Film Audience Network. Screen Heritage tickets are full-priced at £5, concessions £3, refugees and asylum seekers free.
Enjoy soaking up Calderdale on screen!
7-8 August
Chords on canvas by Sharon Bentley
Northlight Studios, Hangingroyd Lane, Hebden Bridge
11am-5pm
If you want to see some vibrant local art this coming weekend an exhibition of paintings by Sharon Bentley featuring the iconic buskers of Hebden Bridge is open at the Northlight Studios. It captures the unique spirit of Hebden - its places and people and is well worth a look for you arty folks!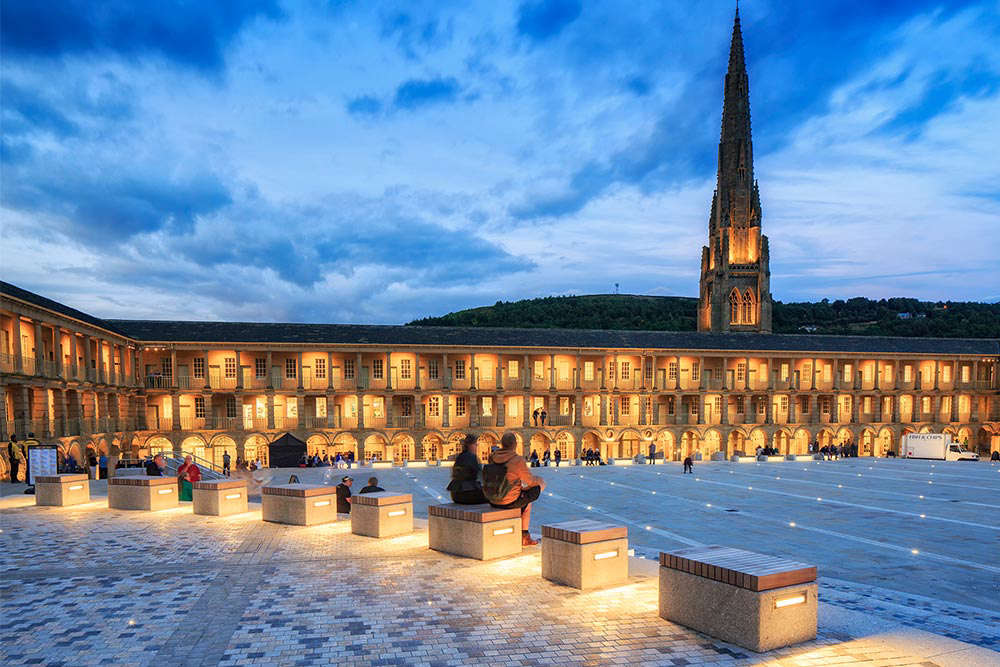 (c) - The Piece Hall
What's On At Piece Hall, Halifax:
Across August & September, our favourite Grade II listed Cloth Hall building is set to host some cracking concerts. Everything at the Piece Hall is guest orientated and they've put customer wellbeing at the front of the experience with deep cleaning, marshalls, hand sanitiser & government guidelines - so you can relax enjoy these concerts in safety. You can purchase tickets and find out more information by clicking here
Shed Seven - August 28
Chart-topping indie rockers Shed Seven headline with performances from The Pigeon Detectives, The Wedding Present, Skylights and Brighton Beach DJs.
The Specials - August 29
UK ska extravaganza The Specials will be headlining a punk night featuring performances by The Rifles, The Skints and Offworld.
The Cribs/ The Orielles/ The Lounge Society - September
A night of fast-paced rock featuring The Cribs and local up & coming band The Lounge Society.
Richard Hawley - September 4
Iconic Yorkshire rocker (and one of my personal favourites - editors note) will be performing at The Piece Hall with John Grant and Studio Electronique.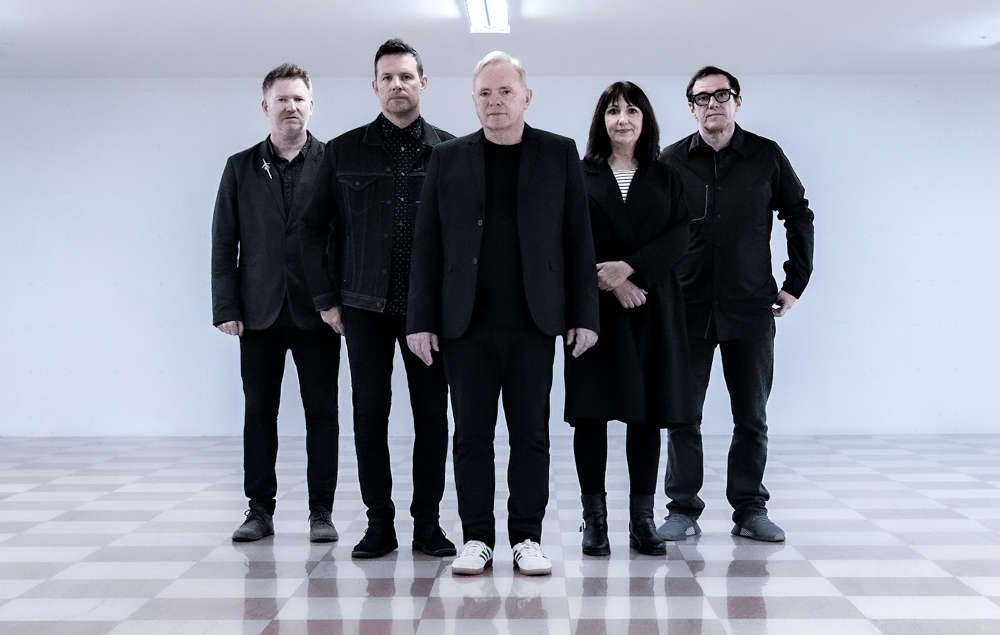 (c) NME/ New Order
New Order - September 8
Seminal band New Order (also my personal favourite band ever ever ever - editors note) will be headlining with support from electronic singer-songwriter LoneLady.
Manic Street Preachers - September 10
Iconic British artists the Manics will be taking over the Piece Hall with support from British Sea Power, The Anchoress and Adwaith.
Kaiser Chiefs - September 11/ 12
This gig is set to be massive with the might Chiefs playing two nights - performances also from The Sherlocks, Mystery Jets, The Big Moon and Apollo Junction.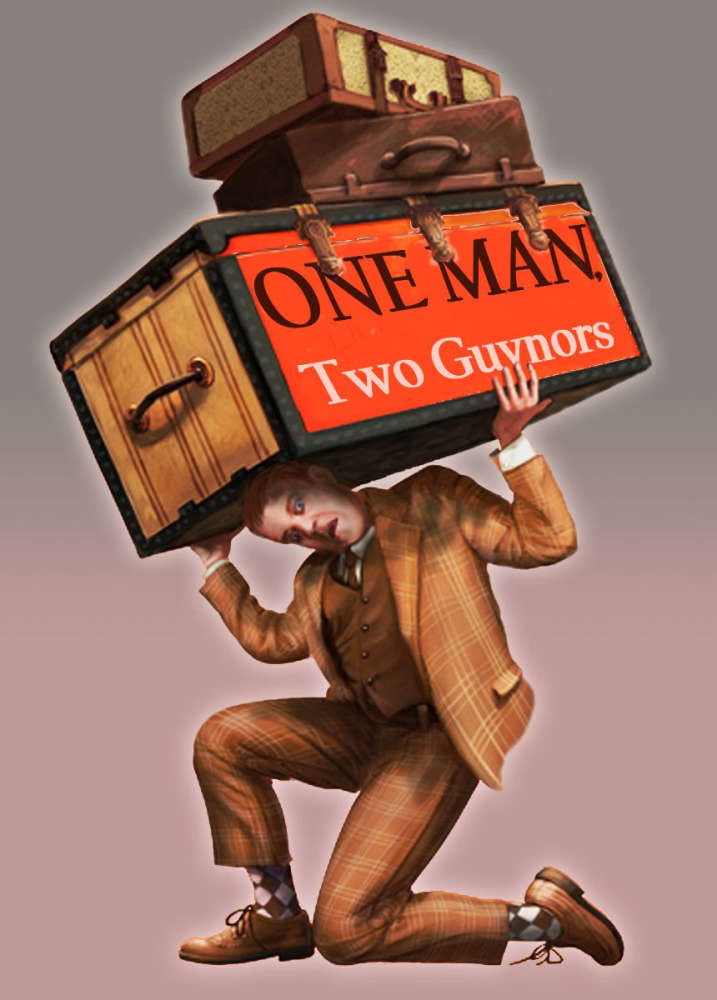 (c) The Halifax Playhouse
What's on at The Halifax Playhouse:
One Man, Two Guvnors
August 31-September 4
If you're looking for your next theatre fix - The Halifax Thespians will be performing One Man, Two Guvnors at the Halifax Playhouse from August 31 to September 4.
One Man, Two Guvnors is a play by Richard Bean and it's a stellar adaptation of Servant of Two Masters by the Italian playwright Carlo Goldoni. It's given a 60s update and is well worth a watch! This amateur production is presented by arrangement with Concord Theatricals Ltd. on behalf of Samuel French Ltd.
For tickets and more information click here
So there we have it Calderdale, plenty of events to wet your cultural whistle. As ever, if you're putting something on and you want us to write about it - or you want to let us know what you've been up to - give us a shout to the usual studio@caldervalleyradio.co.uk ... In the meantime enjoy getting out and about, even if we don't have the great weather - we've still got plenty to keep us entertained. That's it till next time - we'll be back soon with more updates from the trenches!
Over and out

By Louise Ann Oldroyd