Ginger & Nuts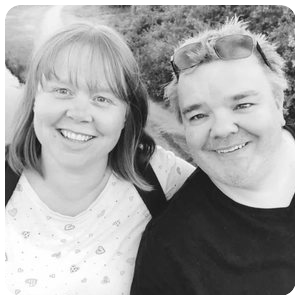 Ginger & Nuts present every Friday 12pm-2pm.
Brief background summary
I (Nuts) dabbled with radio for around 26 years, long before the internet! Bob Monkhouse OBE wrote to me in 1998 stating how good I was, a letter I will always treasure. I've also presented on BBC TV with Alan Titchmarsh, and recently appeared on ITV's Life Stories, supporting my friend, Michael Barrymore. I've interviewed Freddie Starr while he was on the toilet having a number two, and some big names. I've also produced and recorded a charity single called 'The Copstars - Bobby's Girl' with Joe Pasquale and some coppers under the Universal Music label.
As for me (Ginge), I grew up in Birmingham and was also an Apprentice Engineer from the age 18 - 22 years before having my first baby. I recorded an album when in Junior School called 'Days of Our Childhood'. It was sold in all Christian Bookshops.
What was your first job? Do you have a funny story about it?
I (Nuts) worked for West Midlands Police (26 years), doing their PR and Marketing from leaving school. I've been to many crime scenes, but one of my highlights was spending the day working with Shaw Taylor, who presented Police 5. He was such a professional. Funny stories? Too many! After work, I once had a nap, work up in a panic, thinking it was the morning and dashed to work only to be greeting by securing saying 'Good Evening Darren). Huh!
I (Ginge) started off as a Saturday Girl in the Guide Shop. My first proper job was as an Apprentice Engineer, and at the Training Centre, I was the ONLY engineer!
What are you happiest doing when you're not working and why?
Nuts - Without a doubt, doing our radio show. Making others happy makes us happy, and we love the team at Calder Valley Radio. I have many debilitating health conditions, including anxiety, and radio is definitely a release. I put on an invisible mask, and away I go…
Ginge - Like Darren, I love the radio; we have a right hoot! Away from that, playing with our youngest son, Charlie - usually Hot Wheels cars. Also, I like a short walk down the canal by our home.
What's your absolute favourite song and why?
Nuts - I can't think of one; I just love music. I'm going to say, most of the songs playing on Calder Valley Radio - I've never, ever felt the need to switch off.
Ginge - It's a hard one as I also love music and have so many favourites. But definitely, Matt Monroe's Portrait Of My Love has a special place in my heart; it was played at my nans funeral and was also mine and Darren's first dance song.
What's your favourite album and why?
Ginge - Any Take That album as I was a massive fan growing up!
Nuts - I love all those compilations of old music but don't have a favourite, I listen to anything.
What song do you hate most and why?
Ginge - I don't really hate any songs. However, there was a time when Wet, Wet, Wet 'Love Is All Around' really grated on me.

Nuts - Tough one! Most of the modern music annoys me, but that's my age, an old fart! If I have to say one, then 'Everything I do, I do it for you' or 'Nelly The Elephant (even though that was the first record I bought!)
Which artist/ musician alive or dead would you most like to get a coffee (whiskey etc.) with?
Ginge - Gary Barlow. I love his work ethic and would ask how he came up with the crooner sessions? Plus, I love all his songs.
Nuts - Buddy Holly. Such an interesting person and had so much passion and determination to succeed. I usually only drink coffee but would happily share a Jack Daniels.
Tell us something no one knows about you?
Ginge - I swam semi-pro for 'The Orion' Swimming Club in Bournville, Birmingham. And, my useless talent would be playing the Trombone badly!
Nuts - I was kissed by Michael Barrymore (drunk) and have also been to Michael Barrymore's home for Coffee! Oh, and my useless talent is my Zippy and George Impressions!
If we went to Happy Hour what would you order?
Ginge - 1) Blue Lagoon 2) Taboo and Lemonade 3) Lager Shandy 4) tia Maria and Diet Coke 5) Bottle of Corona - All of them, BOGOF!
Nuts - JD and Coke, and maybe a Vodka and Orange, although I got alcohol poisoning on that when I was 18 and nearly died!
Contact Ginger & Nuts