Ricky Hunter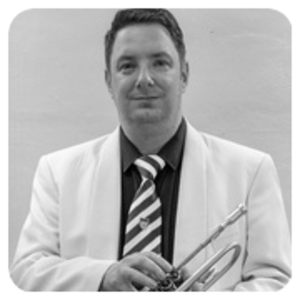 Ricky presents 'We'll Meet Again' on Sunday's 1pm-3pm.
Brief Background Summary
My Name is Ricky Hunter, based in South Wales and been hosting We'll Meet again with Ricky Hunter for about 10 years on and off. I work as an entertainer and this is where my love of the 40s and big band comes from. You will regularly find me time travelling with my wife Sarah to various 40s and vintage weekends around the Country. As well as being a Radio DJ and Entertainer I'm also a Musical Director of a local brass band and my own band "The Ricky Hunter Big Band."
When not performing I like to cook and travel with my wife and just enjoy life!
What was your first/ best job? Do you have a funny story about it?
My best job, that was being The Welsh Trumpeter and performing.
What are you happiest doing when you're not working and why?
Music has been a big part of my life for 28 years so I am truly happy doing that but also sat relaxing with my wife watching some telly.
What's your absolute favourite song and why?
This is a hard one because I love a load of different styles but I think it has to be "Moonlight Serenade" by Glenn Miller, it was also one of my wedding songs
What's your favourite album and why? Does it remind you of a specific period in your life?
My favourite album depends on my mood but I always have a "Mountbatten Festival of Music with Her Majesty's Royal Marines" in my car as it's an annual trip my wife and I attend at the Royal Albert Hall since we met.
What song do you hate most and why?
Anything by Justin Bieber, I can't say why it's rude!
Which artist/ musician alive or dead would you most like to get a coffee (whiskey etc.) with?
I would love to meet Harry James and talk music playing or band management with him and just listen to the stories.
Tell us something no one knows about you?
Nope, they have to tune in for that sort of gossip!
What's your most useless talent?
Working a normal job (lol)!
What will finally break the internet?
Me, winning Britain's Got Talent.
If we went to Happy Hour what would you order?
Long Island Ice Tea or a Mojito
Finally - is there anything specific you want the listeners to know about you…
Tune in to my 'Show We'll Meet Again' where ill transport you back to the days of great music featuring Glenn Miller, Tommy Dorsey, Dame Vera Lynn and so much more…

So, remember loose lips sink ships, and Join Me, Ricky Hunter
82 in your programme, but Number 1 in your Heart
This form could not be found