Paul Baker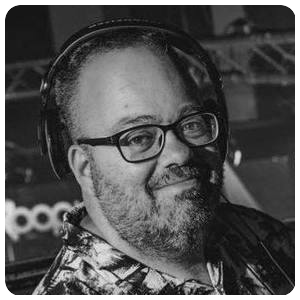 Paul presents the Mystery Top 40, on weekdays 2pm - 4pm.
Brief background summary
I've been in the entertainment industry since 1991 when I helped set up a charity Christmas station called Radio Cracker. I then set up my own mobile disco business which has still up and running until the dreaded Covid landed last year. I've been on the radio for the last ten years and the rest as they say is history...
What was your first job? Do you have a funny story about it?
My first job was in retail for an Irish department store, I knew this wasn't for me within weeks as I was moved to the ladies underwear department (not as exciting as it sounds!) and was asked if I was able to measure the bust of an octogenarian. I was not able to do that.
What are you happiest doing when you're not working and why?
When I'm not working I'm happiest spending time with my family, my wife and kids, a pug called Betty and a cat called Potato. I also love djing in clubs and hosting quizzes as well.
What's your absolute favourite song and why?
My favourite song is "How To Save A Life" by The Fray, apart from being an amazing song it reminds me of some really good memories when I was younger.
What's your favourite album and why?
I don't have a favourite album as such but I am a fan of Greatest hits albums and the early Now compilation albums!
What song do you hate most and why?
The worst song for me is possibly "Fairytale of New York" by Ronan Keating. That song is classic and should *not* be touched.
Which artist/ musician alive or dead would you most like to get a coffee (whiskey etc.) with?
I would love to have a coffee with Bryan Adams, I've been a big fan of his since the 80s and I think he has a lot of stories to tell.
What's your most useless talent?
My most useless talent is that I can sneeze, cough and trump all at the same time with no casualties!

What will finally break the internet?
Probably a video of me sneezing, coughing and trumping whilst hanging upside down listening to Ronan Keating running Christmas songs.
If we went to Happy Hour what would you order?
It would be a Corona or a Guinness depending on the mood!
Contact Paul